Box Braids are everything! With a few accessories you can go from ordinary to Glam Goddess! When I want a low maintenance, low manipulation protective style this is my go to. We all have busy lifestyles and don't always want to be bothered with combing and styling our hair daily which can be even more challenging when you have natural type 4 hair.  Don't get me wrong! I love my natural hair but sometimes it is nice to take a break and let my hair rest.
Accessorizing Braids
Recently I had so much fun accessorizing my braids with cowrie shells, flowers, beads, leaves from the garden ….Ok maybe I went a little over board but it looked really pretty to me.
We all have a pretty pair of earrings where one earring goes missing and you don't know what to do with the other- Use it in your hair! Let it dangle from a large braid, stylish up do.
As they say variety is the spice of life and I love variety when it comes to my hairstyles so I wore my braids in a high bun, low bun, top bun, side braid…you name it ….the opportunities are endless.
Braiding Hustle
I started braiding hair back in college to make extra money #SideHustle back when Janet Jackson made them popular with the "Poetic Justic" braids. Over the years I have had lots of experience braiding with or without extensions and it is definitely something I enjoy doing on other people. Doing box braids on myself is another story. It was always something I dreaded because it literally could take me the whole day to complete and who wants to spend their weekend just braiding hair.  
Pre-Looped Braids
Thankfully today it doesn't have to take so long, in fact it took me a fraction of the time to put in these pre-looped braids in a crotchet style! Yes these are mostly crotchet braids! To get the most "Natural" look I did individuals around my perimeter.
The next time you are in the neighborhood stop at your local beauty shop and check out the braids which come in different lengths, widths and colors and best of all they are soft and easy to install.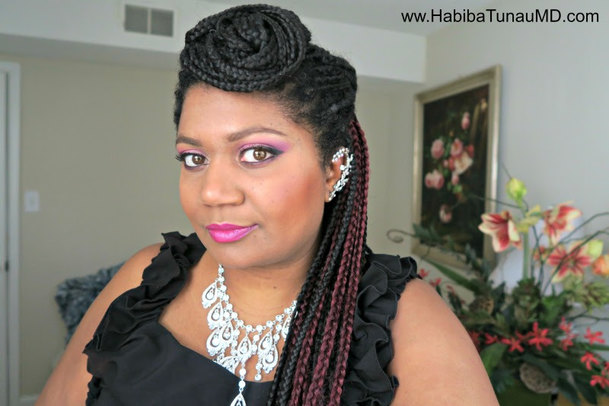 The Key to maintaining my tresses in this style is not to keep it in for too long – in my case no longer than six weeks.  Don't pull the edges too tight! Tension alopecia is not cute. Also don't make  the individual braids or corn rows too small.
I love how different I can look depending on my hairstyle from big natural puff, to Afrocentric braids, to sleek straight hair- I love it all! In my opinion there isn't one way to be black or to feel like royalty!
Xoxo- Habiba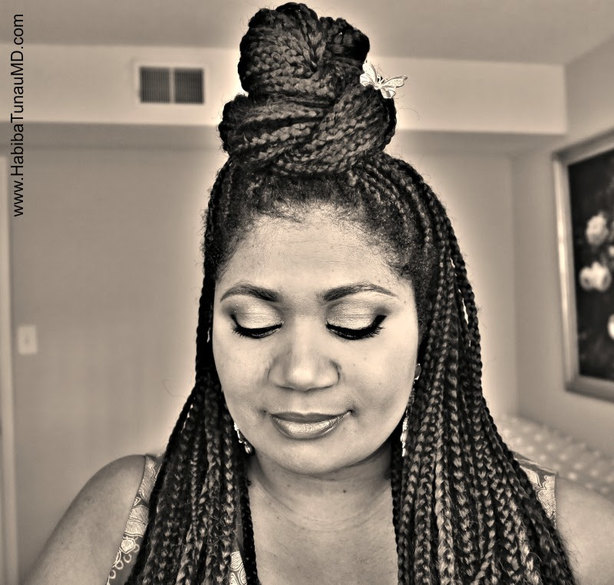 If you enjoy my blog, feel free to subscribe below.